Suzuki Motor Gujarat CTS Scheme| 10th Pass Jobs | Free ITI Scheme | Apprentice Jobs
Suzuki Motor CTS Scheme: Suzuki Motor Gujarat is a reliable car manufacturer company of India. which has made its existence for years, people often dream of working in such big companies. in the same way, Suzuki Motor Gujarat Ltd has collaborated with the Government of India for the CTS Scheme.
Applications have been invited for 10+2 pass youths to get free ITI to the youths through this. Therefore, under the CTS Scheme, candidates willing to do ITI along with work from Suzuki Motor Gujarat. after reading all the information given below, register your nomination through the given registration link.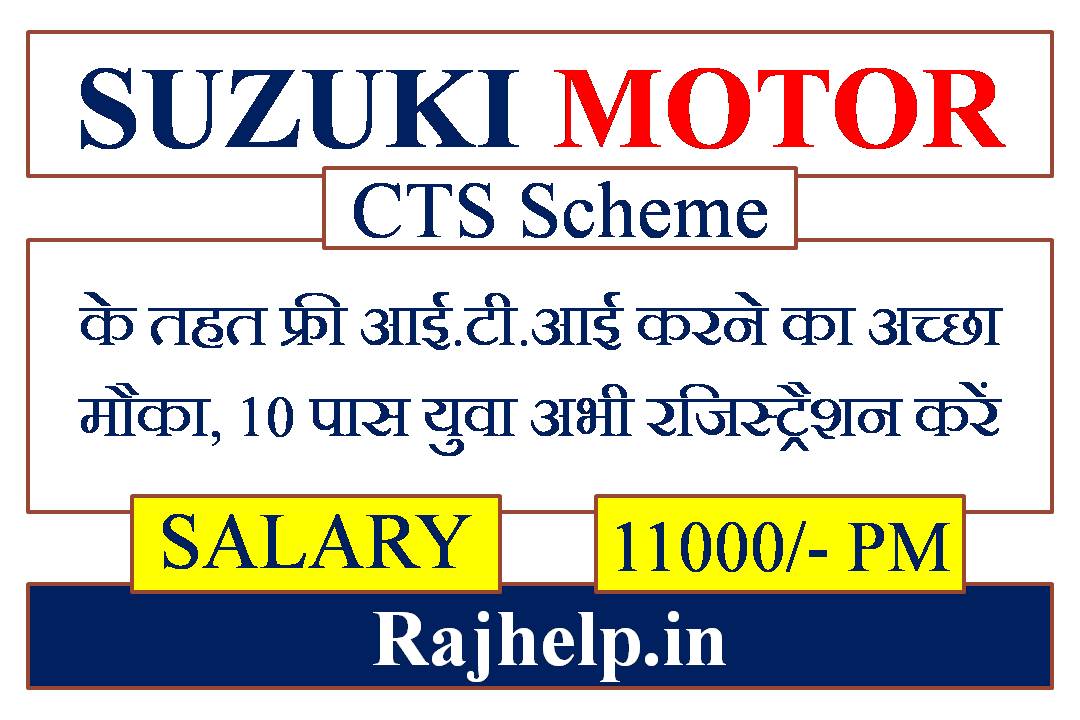 What is CTS Scheme| CTS Scheme Kya Hai
Craftsmen Training Scheme (CTS) 2022: Craftsmen Training Scheme is also called (CTS) scheme in short, generally this scheme was launched by the Government of India in 1950 to ensure continuous flow of skilled workers in various trades for domestic industry and to increase industrial production through systematic training. It was started to increase quantitatively and qualitatively and to work unemployment. In today's time, the effect of this scheme has increased, due to which youth are getting employment through CTS scheme in almost every private sector. Technical education imparts knowledge and employable skills.
Suzuki Motor CTS scheme also comes under this scheme, under which 10th and 12th pass youths are given employment as well as training, in this scheme free ITI course is conducted, in which NCVT certificate is given on completion of training. goes. In this scheme youth are given initial 2 months training, and after that on job training is given, apart from this there are two days class every week after work, food, 2 dresses, safety shoes, etc. are given free in this scheme .
Suzuki Motor CTS Scheme 2022-23 Gujarat Basic Details
| | |
| --- | --- |
| Company Name | Suzuki Motor Gujarat Ltd. |
| Job type |  Trainee |
| job location | Gujarat |
| Course Type | ITI Course |
Suzuki Motor CTS Scheme 2022 Eligible Criteria
| | |
| --- | --- |
| Age Limit | 18 to 21 Years |
| Qualification | Class 10th Pass  with min. 50% Marks |
| Experience | Only Fresher Candidate |
| Candidate Weight | Min. 45 kg |
| Hight | Min. 5.2 |
Suzuki Motor CTS Scheme Course Details
| | |
| --- | --- |
| Trade Name | Automotive Manufacturing |
| Course Duration | 2 Years |
| Course Fee | Free |
| Certification | NCVT |
Suzuki Motor CTS Scheme Stipend & Facility
| | |
| --- | --- |
| Salary/Stipend | 11,000/- PM |
| Attendance Award | 600/- PM For (100% Attendance) |
| Semester Bonus | 1800/-( less than 3 absences ) |
| Canteen | subsidized Rate |
| Other Benefits | 7200 /- (After completing the course) |
Work Details for Suzuki Motor Gujarat CTS Scheme
There will be 6 working days in a week and 1 day off, apart from this, 1 holiday in a month will be given separately.
Will have to work 8 hours/day in the company.
Suzuki Motor Gujarat CTS Scheme Selection  Process :
For selection there will be 2 telephonic interview and one video call interview after that offer letter will be given and as per given date candidate will have to join Ahmedabad-Gujarat.
The first telephonic interview of selected candidates in the list will be held on monday, time 11:00 am to 2.00 pm.
Note : If your call is not received as per the given time, then do not call after that, because the call will not be picked up.
Some Important Links